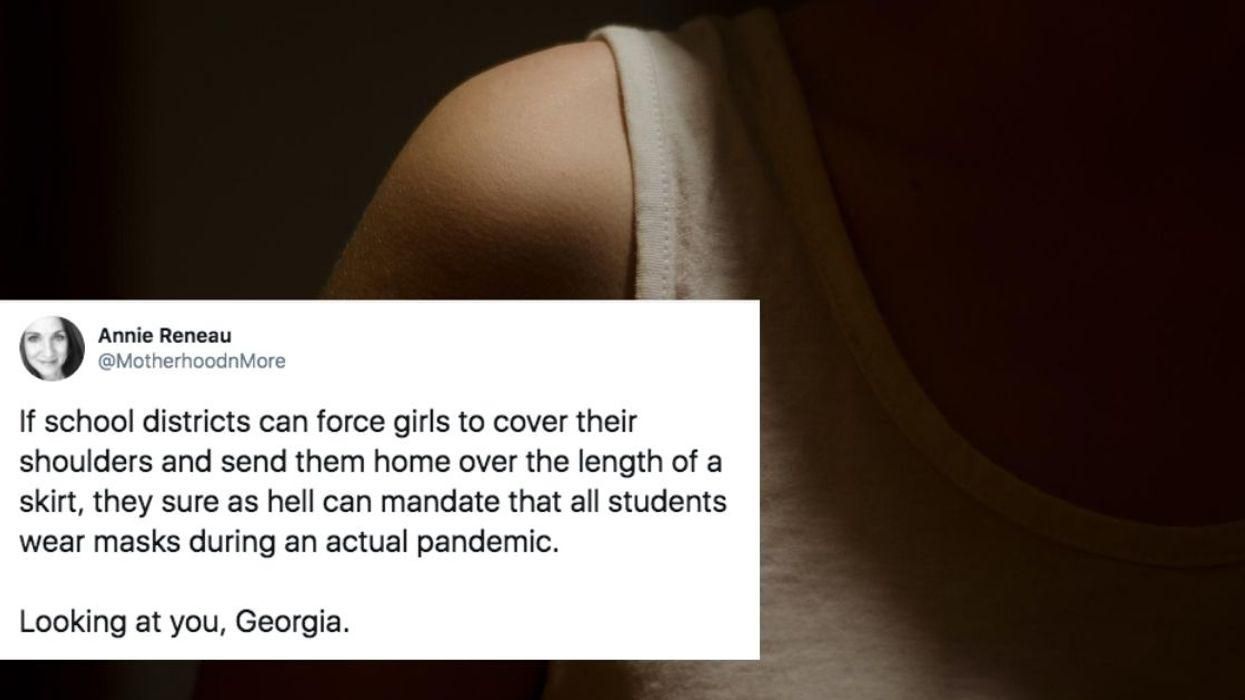 before body
This week, viral photos from the first day of school in various Georgia counties showed students crowded together with few masks in sight. Schools in the same area had to shut down entire classrooms due to positive tests after the first day back, quarantining students and teachers for two weeks.
In these counties, students are "encouraged" to wear a mask at school, but they are not required. Mask-wearing is referred to as a "personal choice."
This week, a private Christian college in a town near where I live announced that is planning to resume in-person classes this fall. The school has decided that students will not be required to wear masks, despite the fact that the town itself has a mask mandate for all public spaces. "No riots. No masks. In person. This fall," the college wrote in a Facebook post advertising the school last month.
The supposed justification for not requiring students to wear masks is that it's a "personal choice," and that students have the freedom to choose whether to wear one or not.
That's a neat story. Except it is totally hypocritical coming from schools and school districts that have no problem placing limits on personal choice and freedom by mandating stringent dress codes for students.
<p>In <a href="https://www.cherokeek12.net/userfiles/wp-uploads/freedomms/wp-content/uploads/sites/14/2017/07/ccsd-dress-code.pdf" target="_blank">Cherokee County school district</a> in Georgia, students must wear pant legs that don't touch the ground, shirts that completely cover the shoulders, and skirts or pants without frayed edges. <em>But they don't have to wear masks in the middle of a literal pandemic.</em></p><p>The <a href="https://nsa.edu/new-students/#:~:text=white%20dress%20shirt%20(must%20be,are%20not%20permitted)" target="_blank">dress code </a>for New Saint Andrew College dictates that male students must wear button-up shirts (but no polos), dress pants and dress shoes at all times. Women must wear dresses, dress shirts and dress pants or skirt, dress shoes, and "at least one extra item (scarf, visible and dressy jewelry, dressy jacket, blazer, cardigan, etc.)."<em> But they don't have to wear masks in the middle of a literal pandemic. </em></p><div style="width:300px; height: 200px; display: block; box-sizing:border-box; background:green">after 300 wordsdsfasdasdasdadsad</div><p>A few other choice details from the college's dress code:</p><p>- "Students must maintain good hygiene and grooming, both for the sake of the student's appearance and for the comfort of others nearby." (Umm, doesn't good hygiene include not keeping germs to yourself in a pandemic? I know that would make me comfortable.)</p><p>- "Students must keep their shoes on at all times." (Sooo, shoes on at ALL times. Masks on during a pandemic only if you feel like it. Got it.)</p><p>- "Black academic robes (available for purchase from the college bookstore) are required at disputatio, convocation, commencement, and oral finals for matriculating students who have earned 32 credits toward their degree program. Robes do not replace proper dress and must be worn over top of correct clothing as required by the dress code." (So you <em>have to</em> wear the black robes in these instances. As in, no personal choice in the matter. But making students wear masks to mitigate a contagious novel virus spread is too much to ask.)</p><p>It's pretty clear that the refusal to mandate masks is not about personal freedom; it's about political statements. Because too many of our leaders and too much of our hyperpolarized society insist on turning everything under the sun—including basic science—into a partisan argument, somehow mask-wearing has become something political. </p><p>Public health is not a partisan thing. It shouldn't even be a political thing. The pandemic doesn't care about your political beliefs. Period.</p><p>Presumably, dress codes are in place to protect students in some way, right? To keep the environment safe and conducive to learning? How is mandating masks to keep students and teachers safer in a pandemic any different? </p><div style="width:300px; height: 200px; display: block; box-sizing:border-box; background:blue">after 600 wordsdsfasdasdasdadsad</div><p>The only way I can see that it's different is that masks actually have science to back up their use, they're recommended by public health officials, and they're useful in helping not only the students, but the entire community at large.</p><p>Seriously, you can't enforce a dress code under normal circumstances and then turn around and say that you won't enforce mask-wearing in a pandemic because of "freedom." If schools were really concerned about personal freedom when it comes to putting things on your body, students wouldn't be required to keep their shoulders covered or wear shoes. The blatant hypocrisy is ridiculous. </p><p>I took my 16-year-old to the store the other day, and as we walked in, she said, "It makes me so happy to see all these people wearing masks." We live in a state that requires masks in public. And I agreed with her; it's a relief to know that everyone will be masked when you go into a store or other public place. We know that masking is most effective if everyone does it. Our governor has taken heat from the "but my freedom" folks over the mandate, but I'm grateful for the clarity and decisive action based on public health recommendations. Too many people have already proven that they won't wear masks if they are not required. My state has gone from having the first outbreak in the nation to #23 for total cases, and I credit the requirements the government put in place to keep spread under control.</p><p>If schools are going to open, masks should absolutely be part of the strict, required safety protocol to keep the pandemic as controlled as possible. Letting it be a "personal choice" won't work, as evidenced by what we've already seen in Georgia. While keeping masks on little kids is a whole other question, high school and college students can handle it. Toughen up and save lives. It's really that simple. </p><div style="width:300px; height: 200px; display: block; box-sizing:border-box; background:red">after 900 wordsdsfasdasdasdadsad</div>